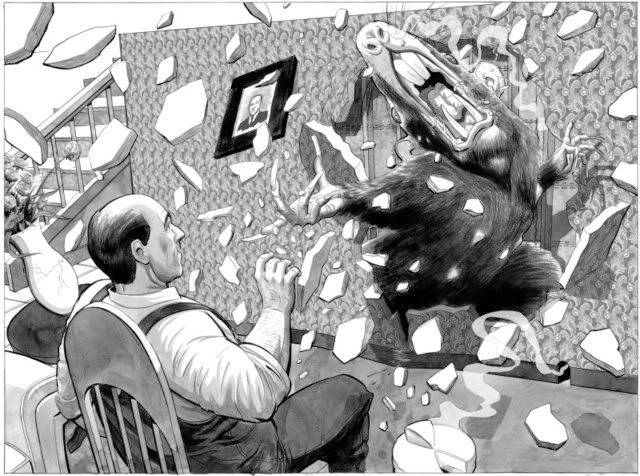 Hello, Bob Howard readers!
As you may or may not know, BH:POTU is self-published by Dan and Raf. This means, of course, that we are basically writing and drawing the book for free, and paying the printer, with no renumeration, until such time as the loyal Bob-lovers plunk down their hard-earned sheckles to purchase a copy (or three!).
We think we may have found a fun, unique way of funding our next issue (tentative due date: January 2011) without going through Kickstarter or any of those other sites. We're going to ask for donations and, in return, put YOU in the comic!
For a contribution of $10, we will draw you into a crowd scene in the next Bob Howard story, as part of a double page splash. In the sequence, Bob is surrounded by hundreds of vampires, ghouls, zombies, werewolves, and all kinda beasties, all with one goal, to rip and rend and rid the world of our everyday hero! And one of these creatures could bear your likeness!
Ten bucks gets you a cameo in the book, a personalized copy of the book itself, a credit in the book, AND a beautifully xeroxed copy of the actual spread, suitable for framing! Such a deal!
Here's how it works: Go to www.bobhoward.blogspot.com. Look for the DONATE button. It'll take you to Papal. Once you've donated, you'll get an email from Raf, telling you where to send a 300 dpi picture of yourself. Once we've received your piccie, we'll start a-drawin'. When the book is completed, in early to mid January, we'll send it off to ya, along with the aforementioned "print". Howzat sound?
Couple things to keep in mind: this is a first-come, first-served process. The earlier you send in your donation, the bigger your face might be on the page (Dan keeps using big words like 'perspective' an' stuff, the snob!). Also, although you can certainly ASK to be a vampire or zombie or somesuch, we reserve the right to apply yer grill to whichever beastie is appropriate to the 'layout' (another Dan word). And finally, international orders will be difficult, as the cost to ship your book will be higher and cut our production funding significantly. So, if you live in some far-off land, we may have to ask for a couple additional $ to cover the cost of shipping.
Okay, that's the pitch. We'll be 'renting' face-space until Dan's hand goes numb from drawing! And we appreciate your generosity. Our goal is to make Bob Howard: Plumber of the Unknown the bestest, most funnest book out there, or else!
"One man. One wrench. Lotsa Monsters." And one of 'em could be YOU!