Wow, time flies when you're constantly fighting deadlines.
For the five of you who follow this blog and not my "book of faces" page, you're probably befuddled by the abrupt absence of posts from a blog that's usually a daily update. Allow me to explain...with a comic.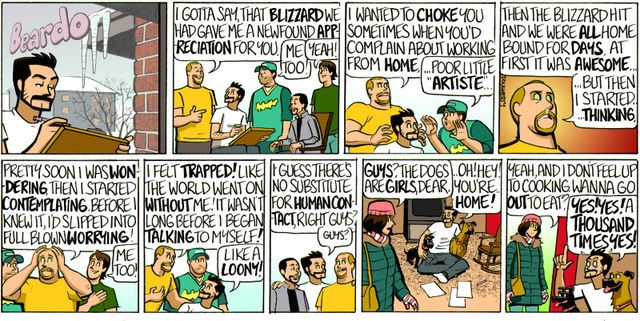 To be more specific, I realized somewhere in February that I had officially bitten off more than I could chew, and that in order to dig myself out of what amounted to a half dozen projects, I was going to have to sacrifice two of my personal projects, namely Beardo and Newton's Law, for the time being. At first, I fooled myself into thinking that I'd only need to take a break for a week, because I am crazy like that. It eventually dawned on me that it would be approximately a month before I could get back to my babies. I coined the term "Marathon March" (because "March Madness", while more appropriate, was already taken), holed myself up in my condo, and got to work.
And what are the results? Well, I finished Bob Howard 2, which I'm particularly fond of, and was released in time for C2E2! I am well past halfway through drawing Rotten 10, as well as the childrens book Sam and the Jungle Band. I've lined up some future projects which I think are going to be game changers. And I found two more white hairs in my beard! What a month!
On top of that, Workhorse Kings have been KILLING it lately! We did an awesome set on WLRA last night, playing and talking for nearly two hours. We rocked Ashbary with an acoustic set, which was one of the most encouraging nights we've had in awhile. A day before that, I had a great time playing a solo set at Chicago St. Pub, and NOW we're gearing up for a THREE HOUR set at Cool River on April 30th! Plus, we've lined up another acoustic gig, this time at Goose Island in Wrigleyville. The best part about this is, we're finally getting people really excited. I think we've started to hit our stride as far as engaging people, and that's a good feeling. We never wanted to be one of those bands that's too precious.
Anyway, you're here for Beardo. And I promise, once Marathon March is over, there will be a hella lot of Beardo coming your way. I'll be making a big Beardo push, because - come hell or high water - Beardo 3 is coming out this fall!
Thanks to everyone who has written me asking for more strips. Maybe you realize it, maybe you don't, but knowing that people like the strip enough to ask for more really makes my day.